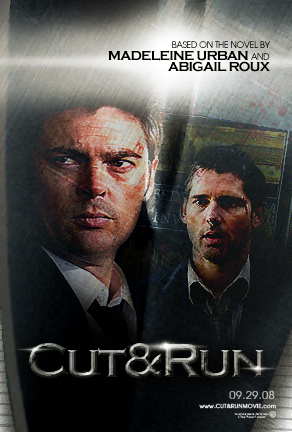 Welcome to the Cut & Run Series Wiki
Edit
The Cut & Run Series, is a book series created by Abigail Roux and Madeleine Urban. It will contain 9 books, but it can be considered that there will be released more. But the story plot arc spans over 9 books. The first book is Cut and Run, followed by Sticks and Stone, Fish and Chips, Divide and Conquer, Armed and Dangerous, Stars and Stripes. The last three books are still in the make. There has been released a 5.5 part of the series named Dine and Dash. Which tells about a brief sexual experience between Ty and Zane, the main characters of the series. It doesn't contain any plot matters or stuff that has to be known to read the rest of the books.
The Cut & Run Books
Edit
1. Cut & Run: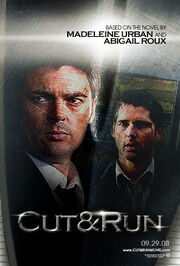 A series of murders in New York City has stymied the police and FBI alike, and they suspect the culprit is a single killer sending an indecipherable message. But when the two federal agents assigned to the investigation are taken out, the FBI takes a more personal interest in the case.

Special Agent Ty Grady is pulled out of undercover work after his case blows up in his face. He's cocky, abrasive, and indisputably the best at what he does. But when he's paired with Special Agent Zane Garrett, it's hate at first sight. Garrett is the perfect image of an agent: serious, sober, and focused, which makes their partnership a classic cliché: total opposites, good cop-bad cop, the odd couple. They both know immediately that their partnership will pose more of an obstacle than the lack of evidence left by the murderer.
Practically before their special assignment starts, the murderer strikes again — this time at them. Now on the run, trying to track down a man who has focused on killing his pursuers, Grady and Garrett will have to figure out how to work together before they become two more notches in the murderer's knife.
2. Sticks & Stones: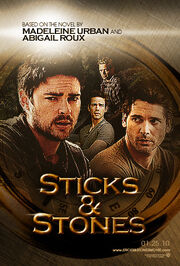 Cut & Run Series Book Two - Sequel to Cut & Run Six months after nearly losing their lives to a serial killer in New York City, FBI Special Agents Ty Grady and Zane Garrett are suffering through something almost as frightening: the monotony of desk duty. When they're ordered to take a vacation for the good of everyone's sanity, Ty bites the bullet and takes Zane home with him to West Virginia, hoping the peace and quiet of the mountains will give them the chance to explore the explosive attraction they've so far been unable to reconcile with their professional partnership. Ty and Zane, along with Ty's father and brother, head up into the Appalachian mountains for a nice, relaxing hike deep into the woods... where no one will hear them scream. They find themselves facing danger from all directions: unpredictable weather, the unrelenting mountains, wild animals, fellow hikers with nothing to lose, and the most terrifying challenge of all. Each other.
3. Fish & Chips: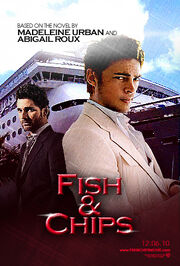 Special Agents Ty Grady and Zane Garrett are back on the job, settled into a personal and professional relationship built on fierce protectiveness and blistering passion. Now they're assigned to impersonate two members of an international smuggling ring-an out-and-proud married couple-on a Christmas cruise in the Caribbean. As their boss says, surely they'd rather kiss each other than be shot at, and he has no idea how right he is. Portraying the wealthy criminals requires a particular change in attitude from Ty and Zane while dealing with the frustrating waiting game of their assignment. As it begins to affect how they treat each other in private, Ty and Zane realize there's more to being partners than watching each other's backs, and when the case takes an unexpected turn and threatens Ty's life, Ty and Zane will have to navigate seas of white lies and stormy secrets, including some of their own.
4. Divide & Conquer: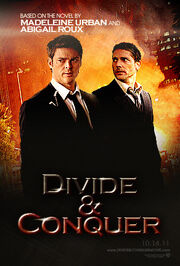 Baltimore, Maryland, is a city in alarming distress. Rising violence is fanning the flames of public outrage, and all law enforcement agencies, including the FBI, are catching blame. Thus the FBI's latest ideas to improve public relations: a municipal softball league and workshops for community leaders. But the new commitments just mean more time Special Agents Ty Grady and Zane Garrett have to spend apart when they're happily exploring how to be more than by-the-book partners.

Then the latest spate of crime explodes in their faces—literally—throwing the city, the Bureau, and Ty and Zane's volatile partnership both in and out of the office into chaos. They're hip-deep in trouble, trying to track down bombers and bank robbers in the dark with very few clues, and the only way to reach the light at the end of the tunnel together requires Ty and Zane to close their eyes and trust each other to the fiery end.
5. Armed & Dangerous: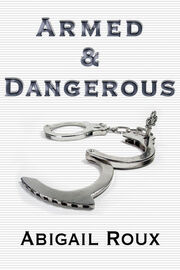 Cut & Run Series Book Five - Sequel to Divide & Conquer Left alone in Baltimore after his unpredictable lover bails, Special Agent Zane Garrett takes his frustration out on everything in his path until he is ordered to Chicago to back up an undercover operative. When he gets there, though, he finds himself face to face with his wayward partner, Special Agent Ty Grady. They have to deal with the uncertainty lingering between them while they work to retrieve their intended mark, a retired hit man and CIA wet-works operative named Julian Cross. Ty, once a Marine and now an FBI hotshot, has a penchant for being unpredictable, a trait Zane can vouch for. Zane is a man who once lived for his job but has come to realize his heartbreaking past doesn't have to overshadow his future. They're partners, friends, lovers, and the go-to team for unusual cases. With Cross and his innocuous boyfriend, Cameron Jacobs, in tow, Ty and Zane must navigate the obstacles of a cross-country trek, including TSA pat-downs, blizzards, their uncooperative prisoners, CIA kill teams, a desperate lack of sleep and caffeine, and each other. Ty and Zane are determined to get Julian Cross to DC in one piece, but it's starting to look like it might be the last thing they do.
6. Stars & Stripes: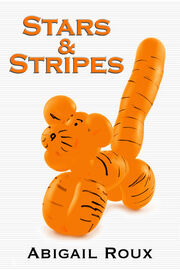 Special Agents Ty Grady and Zane Garrett have managed the impossible: a few months of peace and quiet. After nearly a year of personal and professional turmoil, they're living together conflict-free, work is going smoothly, and they're both happy, healthy, and home every night before dark. But anyone who knows them knows that can't possibly last.

When an emergency call from home upsets the balance of their carefully arranged world, Ty and Zane must juggle family drama with a perplexing crime to save a helpless victim before time runs out.
From the mountains of West Virginia to a remote Texas horse ranch harboring more than just livestock and childhood memories, Ty and Zane must face their fears—and their families—to overcome an unlikely enemy and bring peace back into their newly shared world.
More books coming!
Latest activity
Edit
Ad blocker interference detected!
Wikia is a free-to-use site that makes money from advertising. We have a modified experience for viewers using ad blockers

Wikia is not accessible if you've made further modifications. Remove the custom ad blocker rule(s) and the page will load as expected.